Hey loves! How's it going? It's time for another WIAW! I haven't been participating every week, but it's so much fun when I do!
I am going to be sharing some of my meals from yesterday AND today, so get ready!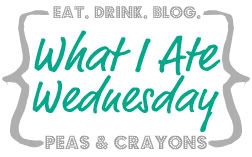 Mornings always begin with lots of water and tea. Usually Yerba Mate. It's my fave and really gets me going!
Breakfast this morning was a delicious smoothie in a bowl!
Let's see...I think it was something like:
1/2 frozen banana
1/2 cup frozen cherries
2 dates
1 cup (or so) coconut milk
1 scoop Sunwarrior chocolate protein powder
1 heaping tbsp peanut butter
Topped with Perky's Crunchy Flax and Leapin Lemurs :-)
Lunch yesterday:
Kinda random, huh? I was totally craving all these different combinations and flavors though, so I just made it happen! It was delicious. I loved the variety of the meal.
(P.S. The green beans and the carrots were homegrown. I wish I could say that about everything! Wouldn't that be awesome? Some day...)
Dinner last night:
MORE green beans! Roasted with olive oil, sea salt, pepper and nutritional yeast.
Mixed greens with leftover frittata on top with baby (homegrown) tomatoes, hummus and salsa.
Throughout my days, there are usually little snacks and treats involved but there are no pictures this time. I do have this though:
I have been LOVING this locally brewed kombucha. You can check out their website here.
One more thing before I go.
Lunch today:
I topped it with homegrown baby tomatoes, goat cheese and pineapple salsa. I threw on some nutritional yeast after the photos were taken :-)
It was so delicious! I think with the spices and salsa and toppings, it was kind of more like a Mexican-Indian scramble. I'll definitely make it again and probably play with some other ingredients.
Oh and one more thing:
Beer has been making an appearance in my days lately. Usually only one a day, if that.
I am happy to say that I have made a full comeback and have been practicing quite regularly again. It feels SO good to be going to classes again. It feels like a part of me that was sleeping has woken up and come back to life! I'm grateful for the awakening. I feel like I'm "home" within myself. I'm planning on keeping up with a regular practice by going to classes at least 2-3 times a week as well as practicing at home.
Lots of love, light and blessings from my heart to yours! Have a beautiful day <3 Thank you for reading!