Hey beauties!
Happy WIAW! (What I Ate Wednesday)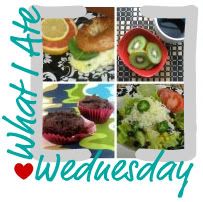 Hope you enjoy!
Yesterday morning upon waking, I drank a ton of water like I always do.
Then I headed to the garden with Woody where we drank our Yerba Mate tea.
While we're at it, here's some recent garden pics.
*Props to Woody for taking all the BEAUTIFUL photos!*
Ahh such glorious beauty! I love having such a little magical paradise in the backyard :-)
Breakfast was a very tropical bowl of oats.
I mixed 1/3 cup of oats with 2/3 cup coconut milk and a packet of About Time Cinnamon Swirl protein powder. I put that in the fridge for about 30 minutes to thicken. Then I took it out and added some greek yogurt, mango, banana, chia seeds and shredded coconut. It was GOOD!
Lunch consisted of some party scores (food that people left over from our PARTY on Saturday.)
:-)
Homemade veggie burger and potato salad. (Thanks Beth for "forgetting" your food over here! Hehe)
FYI: That's homegrown spinach on the burger. And it's on Udi's bread. It was delicious. :-)
I wasn't feeling very snacky yesterday so I didn't really eat anything between my meals. I did drink one of these however.
I wasn't feeling very inspired or motivated to make dinner last night, so I ended up just eating a can of Amy's Veggie Lentil soup.
I threw some in some kale, baby tomatoes and black olives to jazz it up. I also topped it with some sriracha for some added spiciness and flavor but it was still pretty blah.
To make up for that, here's a much more beautiful and delicious meal from today:-)
Veggie Salad with Chocolate Vinaigrette!
Why have I never made chocolate vinaigrette before?!? It was amazing.
1/4 cup olive oil
1/4 cup balsamic vinegar
2 tbsp cocoa powder
3 tsp maple syrup
1/2 tsp cinnamon
1/4 tsp salt
TRY IT!
And now for some WIBW! (What I Baked Wednesday)
Three different treats! I couldn't decide what I wanted to make yesterday so I made small batches of three different kinds of goodies.
Here we have some No-Bake Peanut Butter Chocolate Chip Cookie Dough Balls
1/2 cup brown rice flour
1/4 cup oats
1/4 tsp salt
1/4 cup peanut butter
2 tbsp maple syrup
1 tsp vanilla extract
2 tbsp mini chocolate chips
Just throw all your ingredients together in a bowl. Mix well. Then roll into bite sized balls of peanut butter bliss! Store in the refrigerator.
Mmm yay! I love small bite sized treats :-)
That's it for my WIA&BW! (What I Ate And Baked Wednesday!)
In closing, here is a beautiful thought to reflect on: