Hi loves! Happy WIAW! This is going to be a scattered WIAW featuring meals from a few different days. And it's also going to be a WIDW (What I did Wednesday) and WIBW (What I Baked Wednesday) post. I hope you have fun!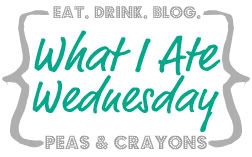 Breakfast:
Smoothie made with frozen banana, coconut milk, oats, chia seeds, cinnamon, vanilla extract and SunWarrior chocolate protein powder topped with Love Grown Simply Oats granola and a crumbled up peanut butter chocolate chip cookie.
One of these cookies:
Gluten-Free Peanut Butter Chocolate Chip Cookies
(This is my FAVORITE cookie recipe right now!)
Lunch:
(Or was this Dinner? Can't remember!)
Delicious sweet potato pinto bean burrito!
Let me take you on a step-by-step journey.
It started with frying some onion and garlic in a pan. We added the pinto beans and some chopped baby tomatoes. We seasoned that with salt, pepper, cumin and chili powder. When that was done, we spread it on warmed whole grain ivory teff tortillas.
Followed by black olives and baby tomatoes.
Nutritional yeast.
And lots of mixed greens!
Delicious!
What I baked:
1 cup Pamela's Gluten-Free Baking Mix (or flour/baking mix of your choice)
1/2 cup graham cracker crumbs (I used gluten-free)
1/2 cup coconut milk (or milk of your choice)
1 tsp vanilla extract
2 tbsp maple syrup
1/4 cup chocolate chips
+
Peanut Butter (I used PB&Co. Dark Chocolate Dreams)
Mini-Marshmallows
Preheat oven to 350 degrees. In a medium bowl sift together the baking mix and graham cracker crumbs. In a separate bowl, mix together the coconut milk, vanilla extract and maple syrup. Add the wet ingredients to the dry and mix until combined. Fold in the chocolate chips. Lightly oil your muffin tins or use muffin tin liners. Fill them 3/4 of the way full. Bake for 15-20 minutes or until a toothpick inserted comes out clean. Let muffins cool completely. Once they have cooled, spread peanut butter on top of each muffin. Then lightly press the mini-marshmallows on top. Place the muffins back in the oven and broil with the door open for about 3 minutes or until the marshmallows are beginning to get toasty and melty :-) Keep a close watch so they don't burn!
Yum! Ooey gooey peanut buttery marshmallow goodness. Awesome :-)
WIDW (What I Did Wednesday)
Although, this is actually what I did on Monday :-)
My uncle Tim is visiting from Hawaii. So on Monday, Woody and I were invited to join him and some other family members on my uncle George's boat. It was so beautiful! It was like a mini family reunion. A lot of my family is super spread out and I'm not very close to many of them, so it was awesome to get to spend some time with my relatives. (Tim, Jeff and George are all brothers. They are my mom's cousins so in actuality, they are my second cousins or something, but I always call them my "uncles." :-)
It was a beautiful sunny day in the bay! It's hardly ever sunny in San Francisco in the summer time.
Woody and Uncle Tim.
Me and my beautiful cousin, Eileen.
Alcatraz
Uncle Jeff, Me, Woody.
Woody, Uncle Tim, Cousin Eillen and Uncle George.
Family photo! Uncle Jeff, me, Woody, Uncle Tim, Cousin Eileen and Uncle George :-)
Such a beautiful day! So grateful.
Thanks for being awesome and reading my blog! I love you all! <3
Have a beautiful Wednesday, my friends!