Hey sweet people! Happy WIAW! :-)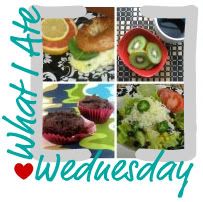 I don't have too much time because in a few minutes I'm heading up to Tahoe for PHISH!!!! I'm so excited! I didn't think I was going to have the opportunity to see Phish at all this summer, but a miracle occurred when one of our good friends called saying he had two extra tickets for tonight! Wooooohoooo! :-)
But, in the meantime I'm ready for a little WIAW action. Head on over to Peas and Crayons to thank the lovely hostess, Jenn, and to check out everyone else's WIAW shenanigans.
Yesterday's eats consisted of a lot of the usuals:
Tea
Kombucha
Fritatta for breakfast
Peanut Butter Apple Crisp!
(Vegan and Gluten-Free)
Details and recipe coming soon! :-)
Peanut Butter Apple Crisp topped with greek yogurt and some gluten-free puffins!
Phatty salad for dinner
Mixed greens, kale, basil, cilantro, tomatoes, bell pepper, cucumber, carrots, olives, pickles, tuna and salad dressing made with hummus, nutritional yeast, dijon mustard, balsamic and a squirt of sriracha :-)
Hit the spot. Big time :-)
Treats:
Don't worry, recipes will be coming soon! :-)
But, now my friends, I must set the gearshift to the high gear of my soul!
Tahoe here I come!
Have a beautiful Wednesday, loves!