Good morning my bright, beautiful friends!
Here is a sneak peak at what you will find over there!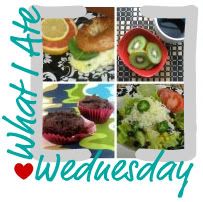 Yesterday morning, I drank a ton of water as soon as I got out of bed. That was soon followed by a wonderful mug of Yerba Mate with a dash of cinnamon. Then I ate a sweet, delicious white peach from the Farmer's Market.
A little later in the morning, I decided to make a frittata! We all know how much I love them. Check out my recipe page for some killer frittata recipes!
This one was made with 5 eggs, mushrooms, asparagus, kale, black olives and goat cheese.
I ate a slice with two pieces of Udi's toast for breakfast. It was lovely!
Soon after breakfast, I headed out to a training session with my personal trainer. It was a killer session! Gorden worked me super hard! I was definitely feeling the burn and am feeling sore today.
When I got home I wanted a little something but I wasn't ready for lunch yet, so I just had this mixed with water and almond milk.
Then I had one of these because I just couldn't help myself :-)
That's a frozen cookie dough ball dipped in coconut oil and chocolate. It was from my brown rice flour baking adventures yesterday.
Lunch was more frittata! I chopped up a slice and put it on a bed of greens topped with a bunch of ketchup. It's weird, for some reason I am craving ketchup like crazy! I was craving it a lot while we were on our cleanse, even though I'm usually not super crazy about it. Anyway, now that we're done cleansing, I find myself putting ketchup on everything.
Later on in the afternoon, I sipped on this:
And had a bite of this:
For dinner I had more ketchup! Underneath it was a bunch of greens, baked sweet potato, chicken apple sausage (I had a random meat craving!), tomatoes, avocado and black olives. I also put on a little mustard to go along with the ketchup. It looks a little weird but it was so good!
Dessert was crumbles of my failed attempt at baking with brown rice flour. Broken cookies and brownies in a bowl with some Perky's crunchy flax cereal, a scoop of Mocha Maca Crunch coconut bliss and a splash of coconut milk. A totally random dessert bowl that came together beautifully and tasted divine. Mmm :-)
Today is a rainy day and I'm cuddled up on the couch under a blanket. But the kitchen beckons to me. I sense some baking happening in the near future!
I hope you all have a fantastic day filled with love, abundance, joy and gratitude!
Much love!