Good morning my sweet friends! I'm very excited to share my first ever WIAW with you today, hosted by the awesome Jenn over at Peas and Crayons.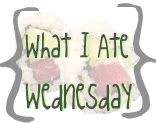 I'm still on my 14-day cleanse/detox, so I haven't had any epic treats or sweets lately but I have had some pretty delicious eats!
I woke up yesterday morning and drank a large glass of water followed immediately by a cup of Dandelion Root tea.
After that, my sweet boyfriend made us each a delicious juice.
Cucumber, strawberries, orange, lemon, apple and carrot bliss :-)
A little later in the morning I wanted something a little more substantial so I made Woody and I a smoothie (in a bowl)
1 1/2 cups coconut water
1 scoop Sun Warrior Chocolate Protein Powder
2 tbsp chia seeds
2 tsp maca powder
1 banana
1 cup frozen blueberries
4 large strawberries
1 heaping spoonful of coconut peanut butter
Pinch of xanthan gum
Sprinkled with oats and cinnamon! Yum! :-)
Lunch was some leftovers from last night on top of fresh garden greens.
Greens, cilantro, brown rice couscous and steamed veggies topped with a super simple sauce that came together really quick! Almond butter, coconut butter, water and coconut aminos. I fell deeply in love with that sauce, let me tell you!
Dinner:
Raw kale, cilantro, brown rice couscous, sweet bell pepper and pinto beans topped with this totally delicious smokey-cheezy sauce.
Not a bad day of eats, huh? One thing could have made it better.
Chocolate.
Only four more days!!!
I've been thinking that when I'm done with this cleanse, I want to revisit it once a week or so. I feel like a pretty healthy eater but I definitely allow myself to indulge in sweets and treats and drinks, etc! So, I think it would be good to pick a day every week where I just juice and make smoothies and eat greens and avoid any sugar, caffeine, alcohol, wheat, meat, gluten and dairy. It would be like doing a little mini 24-hour detox every week.
Now as promised, I'll share with you the delicious, nourishing, comforting curry I made the other night.
Coconut Rice with Veggie Lentil Curry
For the rice:
1 cup coconut milk
1 cup water
1 cup brown rice
1/2 veggie bouillon cube
For the curry:
1 cup red lentils
1 onion
1 sweet potato
2 carrots
2 celery stalks
1 large handful of chopped kale
1 large handful of spinach
5 garlic cloves
1/2 cup coconut milk
3 1/2 cups water
1 1/2 tsp mustard seeds
2 tsp cumin seeds
1/4 tsp garam masala
1/2 tsp coriander powder
1/4 tsp cayenne powder
1/2 veggie bouillon cube
salt and pepper to taste
Cilantro to garnish
To prepare the rice, pour the coconut milk, water and veggie cube into a medium sauce pan over high heat. Bring to a boil, add the rice, turn the heat down to a simmer and set your timer for 50 minutes.
Meanwhile, place a large sauce pan over high heat and add the coconut milk and water to it. Bring it to a boil then turn it down to a simmer. Add all the spices, garlic, lentils and veggies except for the kale and spinach. Leave it simmering and stir every several minutes. Once the lentils are soft and all the veggies are cooked, divide the curry in half. Transfer one half to a blender or food processor and blend until smooth. Then add it back to the rest of the curry. Then add the kale and spinach and allow to cook for a few more minutes. Serve over rice and top with fresh cilantro. Season with salt and pepper, if needed. I didn't measure how much it made, but it fed Woody and I two separate times, so I would say it makes about 4 servings :-)
It was some serious soul food! So good!
So now I want to ask you, what's the yummiest looking thing I ate?
And, what do you think of cleansing/detoxing? Have you ever done a cleanse before? How did it make you feel?
I hope you have a beautiful, amazing day and that your heart is warm and radiant! Much love <3