Hey loves! Happy WIAW!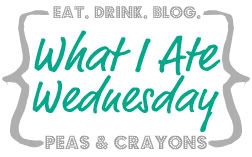 Much love and thanks to our lovely hostess, Jenn at Peas and Crayons! Head on over there to check out the WIAW par-tay!
Yesterday morning began like most other mornings, with tons of water followed by Yerba Mate.
Breakfast was a wonderful bowl of cereal.
It was topped with strawberries, banana and some chocolate-chocolate chip zucchini bread. :-)
Shortly after breakfast, Woody and I hit the road for Santa Cruz!
Snacks in the car included:
Peanut butter chocolate chip cookies (that I may post the recipe for at some point in time!)
Soon after arriving in Santa Cruz, we met up with Woody's sister, Kim and her boyfriend, Trevor.
We ate at a delicious Thai restaurant.
I got the lunch special which came with:
Salad:
Soup:
And Pad Thai:
Delicious! :-)
A little while after lunch, we hit the coast for some surfing.
Kim and Trevor...so cute. I captured "a moment." Hehe :-)
Surfing was fun! I don't go often enough to be super awesome at it but I always have fun going out even if I don't catch any waves. It's fun and rejuvenating just to be out in the ocean paddling around. :-)
We had dinner at the very amazing Asian Rose Cafe/Malabar Restaurant. I love this place and I try to go there every time I visit Santa Cruz. Do yourself a favor and hit it up if you ever get the chance. The four of us ordered several different appetizers and meals to share and everything was amazing.
Veggie Samosas
Fresh Spring Rolls
Salad with baked goat cheese (from Sonoma...Holla! )
I wish I took more pictures of our food, but as it came out plate by plate it was difficult to have the patience to take photos. We all just wanted to dig in! It was SO amazing :-)
It was such a lovely day of sunshine, surf, good food and fabulous company. LOVE!
This morning's breakfast was amazing too. (Made by yours truly and the amazing, Kim)
Corn tortilla covered with black beans, eggs scrambled with onion and spices, cheese, salsa and avocado. That is a quality breakfast right there, my friends.
Later on in the day, I discovered a way of cooking zucchini that I really like. It's not my typical way of cooking, nor is it very healthy but oh my goodness! It was delicious.
Fried Zucchini battered with Pamela's Gluten-Free baking mix and cornmeal. Yum.
We are leaving to head back home in a few hours but first we're going to go on an evening hike and then get dinner somewhere.
I hope you've all had a wonderful Wednesday and I will see you soon!
Much love! <3